Conditions were right yesterday for skiing some of the steeper lines in Tuckerman Ravine. Warm temperatures overnight and skies clearing throughout the day made for the first real spring skiing conditions I've been able to get since December.
Andy and I arrived at Pinkham, thinking we were very early, to a horde of people clogging up the lot. The Tuckerman Inferno was running and spectators and racers were getting ready. Alex had once again gotten to the lot just before us and joined us for the day. We didn't have high expectations-the weather and visibility might not cooperate so we were hoping for the best.
We passed 20-30 people on the Tuckerman Ravine Trail and stopped at HoJo's to check things out. One of the rangers gave us a breakdown of conditions and we made our way up through little headwall to the Bowl. There was a decent crowd already in the bowl, mostly spectators and race volunteers, but a few people were starting to work their way up the right side of the ravine.
We went up Left Gully and found the snow to be pretty stable for the most part. We let Alex set the booter because he has more energy than a Cocker Spaniel on methamphetamines. By the time we got to the top we were completely fogged in and couldn't see more than 50 feet in front of us. We skied down left and then we were able to watch some of the first Inferno racers coming up the course. We made a good show of heckling Andrew Drummond as he finished up the hike to transition to skiing but I think he was too tired to hear us.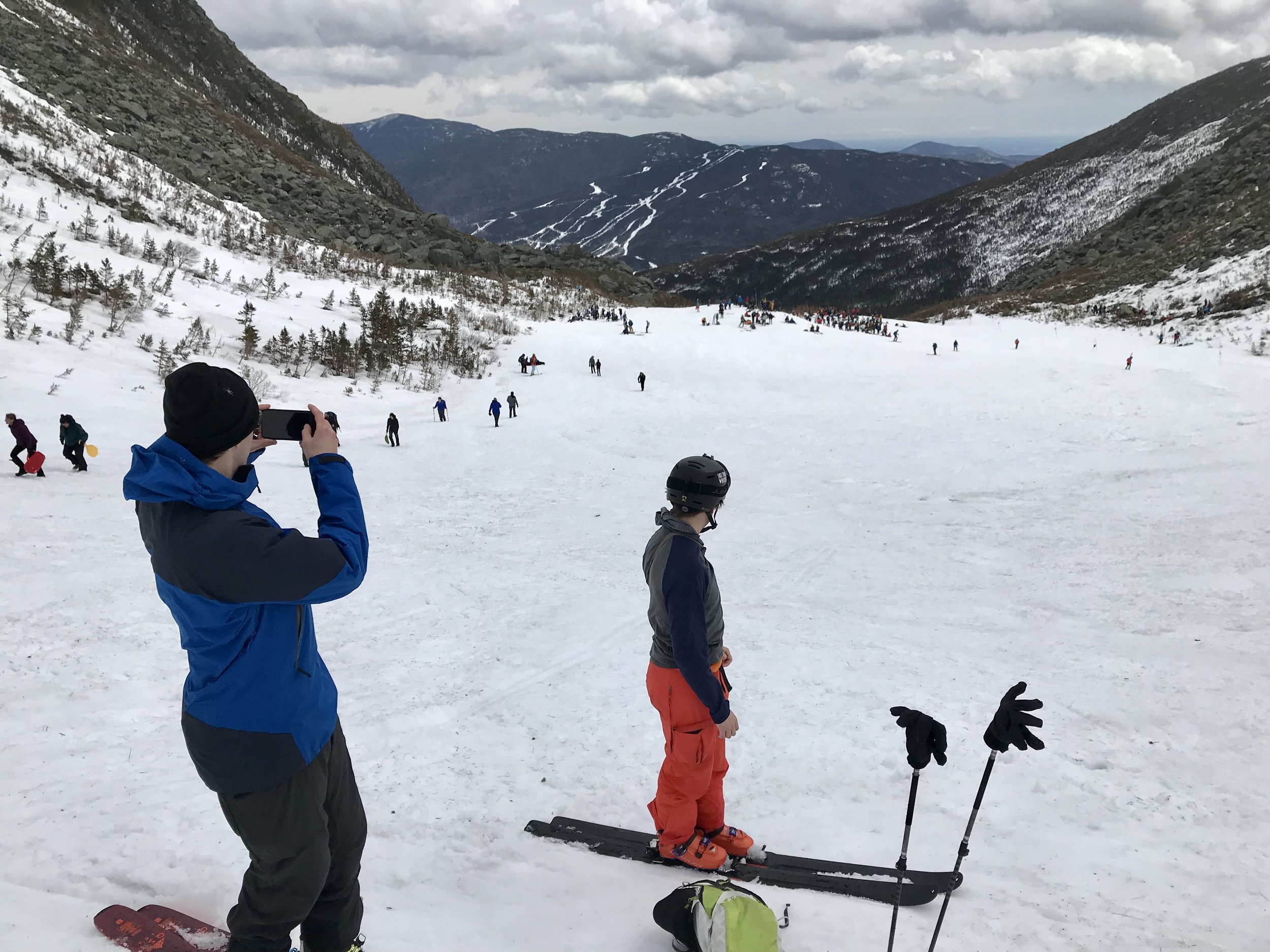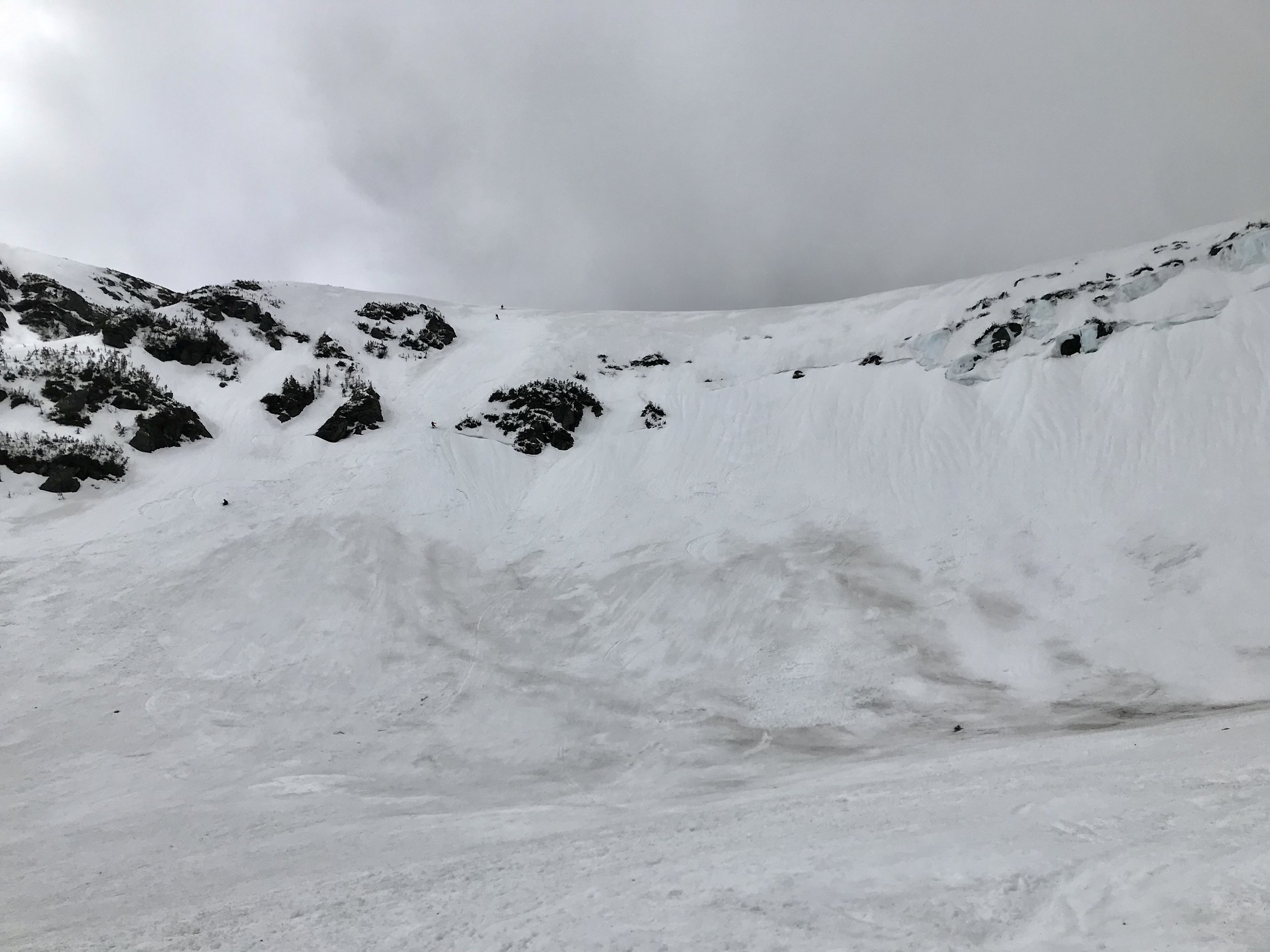 We wanted to ski Chute but there was no way I was dropping into it without being able to see through the fog. So we booted up and waited at the top to see if the clouds might clear long enough for us to drop. And they did! The skies cleared for a few minutes and we were able to ski down. Alex and Andy made quick work of it and I picked my way down. It was a strange combo of firmer old snow and very soft, heavy new snow. I don't know if I'll ever get past the sense of doom skiing over the roll on the upper part of the headwall. It's just so steep.
At this point the skies were starting to clear more consistently so we went back up Left Gully and skied down Center Headwall. I was concerned about navigating the old crown line that was left from several weeks ago but it proved to be a non-issue. Just an easy traverse across a small gap in the snow. We still had some gas left in the tank so we skied down test slope and over to Hillman's Highway.
Duchess looked like it had plenty of older snow exposed so we decided to have a go at it. We made the never ending slog up Hillman's with a couple of Alex's friends that were out for a ski and then traversed over to the top of Duchess. I thought the top of the headwall was intimidating but Duchess is a whole nother thing. You sit up on some rocks and the cliff just disappears below you. But I got it together and made my way down in my typical slow and cautious fashion. The choke in the center of the run had some shrubs starting to poke through but they were easy enough for me to navigate.
It was an awesome day with unexpectedly good weather and snow. I was able to pick off three new lines in Tucks: Chute, Center Headwall and Duchess. Hopefully next week Andy and I will be able to ski Dodge's Drop.