Andy was up for an adventure so we decided to ski Great Gulf via Huntington Ravine. For those who don't know, this is not, in any way, the most direct route to get to Great Gulf. Typically you can just skin/boot up the Cog and you'll get to the top of Airplane Gully in an hour or two depending on conditions and your fitness. Going in from Pinkham Notch we found will take you twice as long. But we were able to ski most of the way back to our car instead of having to walk back down on the west side of Mount Washington.
Even on a Monday we saw your typical spring-time, Tucks-bound craziness at Pinkham Notch. One highlight was the guy that was lashing his skis to a boot bag with what looked like yacht line. But Andy and I were able to skin past all these weirdos and made good time to the Huntington Ravine fire road. There we found a pair of hikers that lost there way to the Lions Head trail and we turned them around. These were the last people we saw until we got to the bottom of Great Gulf.
Huntington Ravine, to our great disappointment, really wasn't skiable. Everything had taken a hard hit from last week's rain and the best you could do is ski the bottom of some of the gullies. We considered trekking up to Diagonal Gully but it required a scramble across alpine shrubs and we were worried about our exposure to falling ice from Harvard Bulge. So we decided to boot up South Gully despite the snow not connecting at its choke.
We made good time up the lower part of the gully and then we were forced to stop when we heard a rumble coming from elsewhere in the ravine. At this point we were nestled into the walls of the gully and couldn't see much but were were able to see the base of the fan where we were standing about 20 minutes earlier. That's where some huge ice chunks, probably from Harvard Bulge, were rolling through the exposed shrubs. Thus far we had made some good choices for the day.
Navigating the dry section of South Gully was a little trickier then I expected and involved one or two 5th class moves on turf, rock and ice. But even Andy made his way through it and we continued up. At the top of the gully we changed into our trail runners and started moving through the fog in the Alpine Garden. After a bunch of walking we crossed a short patch of snow and then we were on the auto road for a bit. Visibility was nonexistent so we did some navigating by GPS and made a quick cross country shortcut to the Gulf Side trail and eventually found our way to the top of Airplane Gully.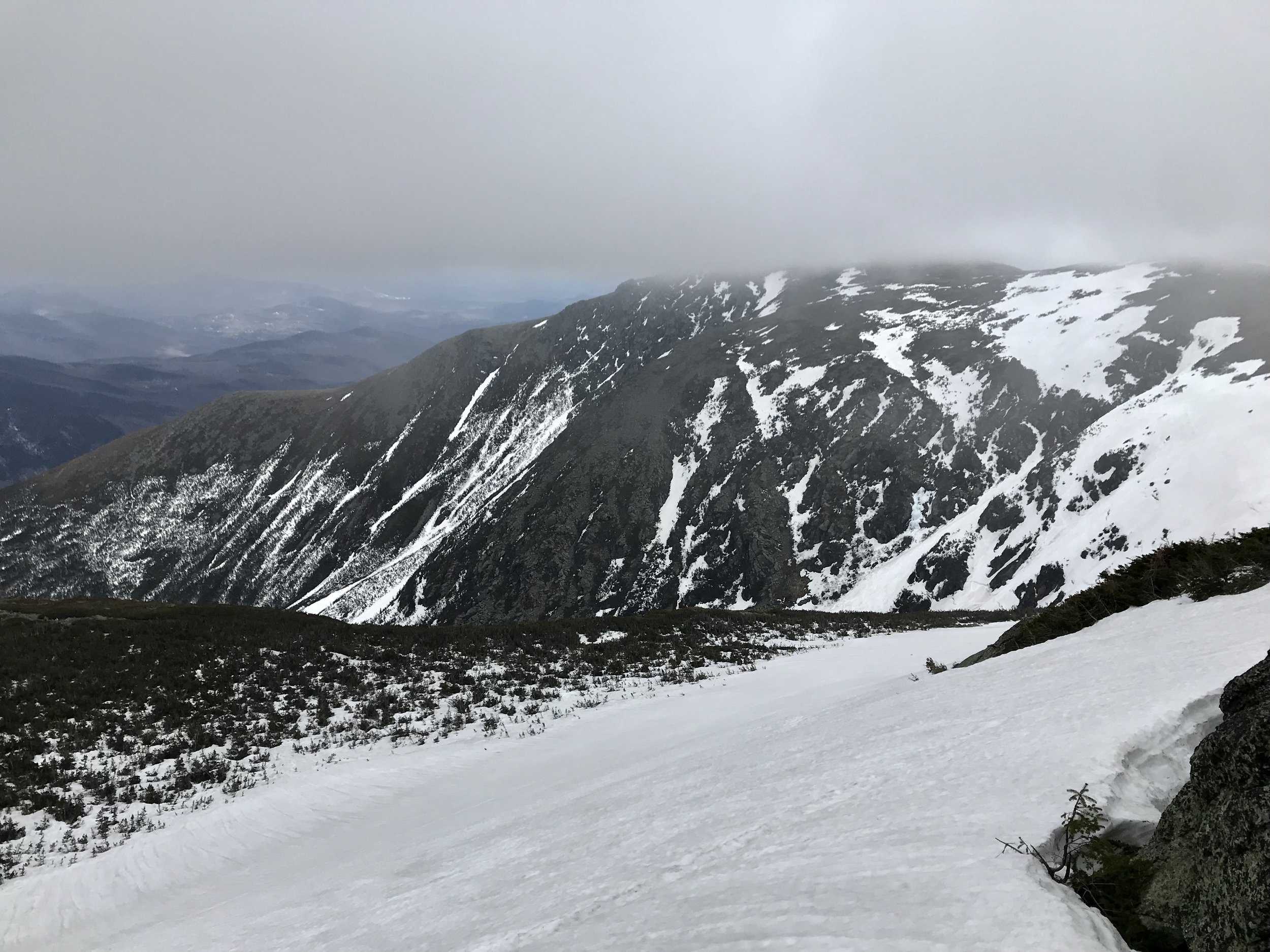 It felt good to be back on the skis and the snow in Airplane was excellent. Andy and I made fun turns down the long run until we ran into Andrew Drummond. He had been booting up and down all over Great Gulf for the past couple hours. We told him that was our first run of the day and he shook his head. I think Andy and I were having more fun though.
Then we had to make the long slog back out of the Gulf, Andrew set the booter for half of it and I was grateful. Trail runners went back on and Andy I went back to the auto road while Andrew went down the cog. An easy walk up the road got us to the East Snowfields and we put the skis back on. Andy demonstrated how to put his ski boots on when they're already locked into your skis and then we made the long traverse to Tucks. Traversing across the snowfields isn't challenging but I think it's hugely exciting. Even through the fog you can see the south side of Tucks and Boott Spur laid out before you and it's absolutely epic.
Andy and I aimed for Sluice and we made it after a stupid amount of shrub skiing. It was only after I clambered down onto the snow at the top Sluice that Andy mentioned he knew where to find a picture of the route from the day before. Out came the phone, we found the pic, and then I quickly made my way out Sluice. The pic showed some huge cracks had opened up in the gully and I wanted nothing to do with it. The entire headwall of Tuckerman Ravine had cracks opening up all over it and our only real option to get down from our side of the ravine was to trek over to Right Gully.
Lucky for us, Right Gully skied exceptionally well and we dropped down to the Little Headwall river. We made some sketchy bypasses around the open water and got over to test slope. Test slope skied well with a little crack opening at the top then we skirted around the river at the bottom and onto the Sherburne. Most of the upper Sherburne was good but the bottom had deteriorated badly throughout day. I took my skis off at one point and then we had to walk with the skis on through a few muddy sections. But it was still better than walking down!
Overall, it was a fun adventure day. It took a lot of walking for not a lot of skiing but we still had a blast and got to approach familiar terrain from a fresh perspective. But with the way the snow is disappearing this might be my last ski day of the season.