We were on the hunt for pow.
After getting kinda skunked at Moosilauke last week I was looking forward to skiing some fresh snow. I also didn't mind having a slower paced day so long as there were nice runs to be had. So, Ian, a snowboarder, and Patrick, a noob, came along on the hunt.
The drive up was slow. The storm cleanup was ongoing and we didn't get to the Maple Villa parking lot until after 8:00 a.m. There were already about 8 cars in the lot. I was starting to worry we might not get the untracked freshies we were after.
But after showing Patrick how to lock his ski brakes up and reminding him to unlock his boots, we were off.
The Way Up
We started up the skin track and with a number of people passing us on their way out. They must have been the lap-before-work crowd. Maybe we would be able to get fresh tracks.
It was hard to slow down to keep from dropping Patrick and Ian on the skin up. I had to keep reminding myself to take it easy. I could always ditch them later in the day to get in more skiing. Namaste.
We got up to the top and went to far skier's left. I waited for the knuckle dragger to reassemble his snow board and then we dropped in.
First Lap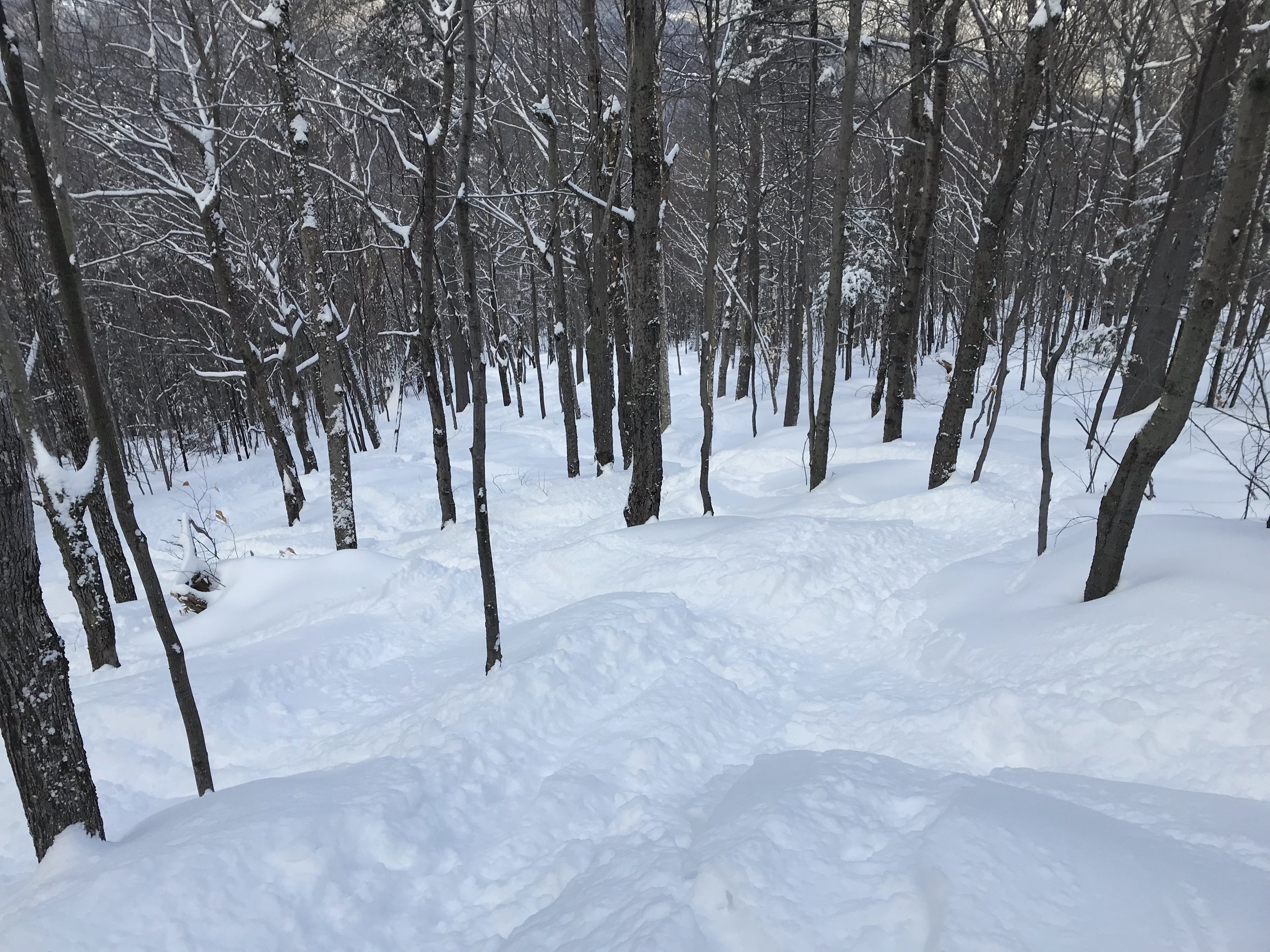 The snow was deep and fluffy. For the first time in a while I was wishing I had a little wider skis to keep on top of it. My Transalps were punching into the crust layer below pretty easily. I was hoping to get a few photos of Ian and Patrick skiing. But they kept falling over. Ian needed to remember how to snowboard again, I think it was only his second day of the season, and Patrick needed to learn how to ski on soft snow.
Shortly after starting the descent the majority of the tracks veered hard left and we were welcomed with an untouched corridor of pow leading down the mountain. Success!
Ian and I took turns on the freshies and let Patrick fumble his way down the mountain. We had a lot of laughs. Finally, we made it back down to the skin track and got ready to go back up.
More Laps
I waited for everyone to make their transition and then we started moving again. We made it a short way and then Patrick needed to stop because he forgot to put his boots back into walk mode. I can't make this up.
But we eventually got back to the top and then we heard a commotion behind us. Patrick had caught a ski on a tree or something, face planted, and ejected from at least one ski. After a good laugh he assured us he was okay. I made my transition and then ditched them for the rest of the day.
Each run was exceptional fun, even on the tracked snow. There were plenty of small drops into fresh snow to keep it interesting.
On my fifth and final run to the car I veered hard left and eventually found myself on a cool spine feature that only had one track on it. This eventually led to the skin track. Even this was a blast. Just steep enough to keep you moving but narrow and soft enough to keep it interesting.
Overall, a super fun morning with friends. Now I just need to get out on those race skis again…