Windslab, arctic temperatures, an early start, a long drive. Years ago this would have been enough to keep me from skiing. Today, I'm very happy it didn't.
Gulf of Slides
Andy, AKA "Big Daddy," was actually the one to get this day planned. He had bailed on skiing Saturday because of the crazy cold temperatures up north. We were originally looking at attempting Lincoln's throat in Franconia Notch. Then we got some last minute beta that told us the gullies on Lincoln were wind scoured and rocky. So, old reliable George was our new destination.
The temperature in the car at Pinkham, according to Big Daddy's truck, was hovering at around 4 or 5 degrees. We managed to have literally everything, with the exception of skins on skis, packed and ready to roll before we left the cozy confines of the truck. There were only a few other jabronis in the lot at this point. Early starts are an amazing thing.
The Gulf of Slides Trail was nicely filled from the previous storms with only the occasional open stream section. After only a modest amount of elevation gain it was like someone turned on the heat. The temperature rose dramatically. A quick check of the Mount Washington Observatory showed a dramatic inversion layer that was miraculously hovering right around the elevations that we would be skiing at. Talk about lucky! The giant puffy jacket I brought along was now just taking up space at the bottom of my pack. I should have brought a t-shirt instead.
Central Gully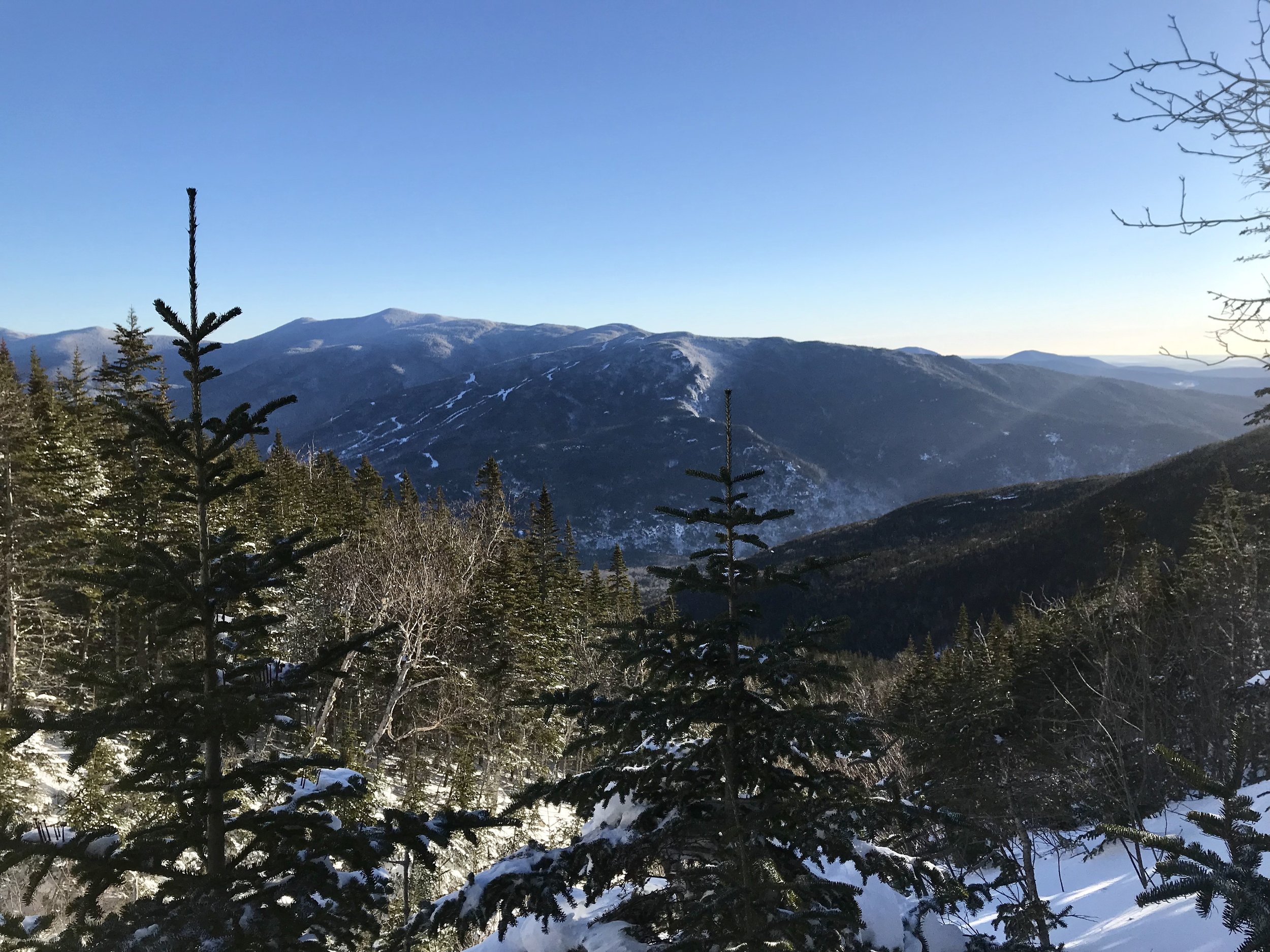 The snow in the most central gullies was fairly homogenous wind slab with a few bands of soft sastrugi crossing the slopes. We skinned up as high as we could, which really wasn't very high on the firm slab, and then transitioned to crampons. I dug a quick hand-shear pit. Not discovering anything particularly troublesome or out of line with the avalanche forecast, Andy and I set a boot pack all the way to the top.
I had never ventured to the very top of the ridge and I wanted to check it out. It didn't take long on the wind scoured upper ridge to decide it wasn't worth continuing. Bare patches of rock and tundra were intermixed with icy, breakable crust. Oh well. At least it wasn't windy, the sun was shining, and the views were exceptional.
After navigating the crusty nonsense at the top, I skied down a short ways in my typical conservative and awkward manner. I stopped to take photos of Andy and he, as usual, absolutely ripped up the slope. Skiers at the bottom were hooting and hollering for him. He even got a high five. I was happy to make it down without completely embarrassing myself.
Gully #2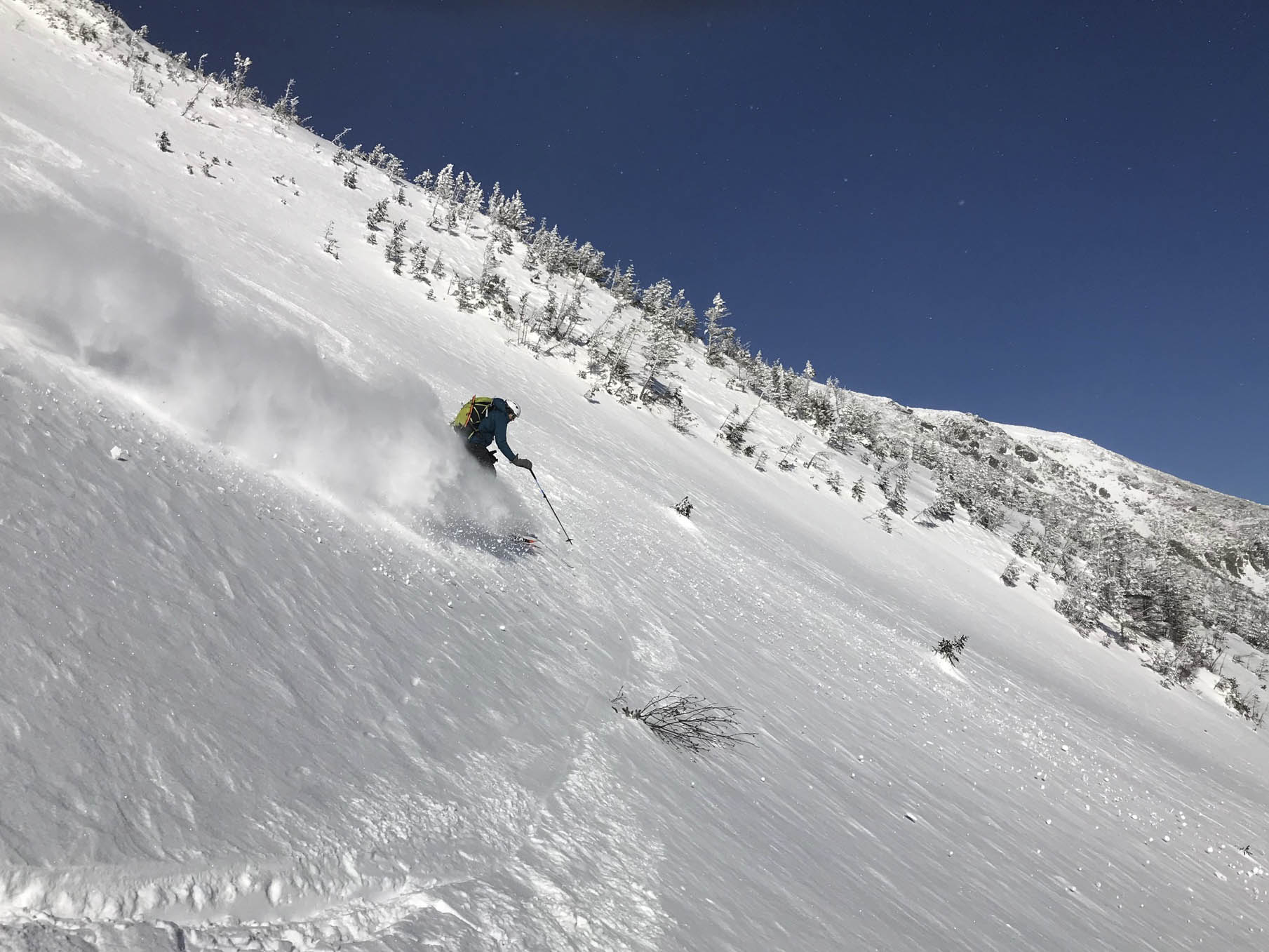 A quick snack at the bottom and then we transitioned back to crampons for a second run. We passed by the guys that had become Andy's new fan club. One had dug a substantial test pit well off to the side of the gully. It was in the lee and the snow was much softer and very different from what you'd ski 10-15 feet away closer to the middle of the gully. I was able to watch him perform a compression test and he got a slab to fail about 2 and a half feet down after 3 light wrist taps. He, and another person in his party were concerned by their results. If they had any faith in the test they just did, they should have just turned around and gingerly made their way out of avalanche terrain. But they continued up anyways, probably because there were other people skiing. Which begs the question: why perform a compression test at all if you're not going to do it in the snow pack you will be skiing and you're not going to put faith in the results?
Anyways, I was happy to continue up and then break off on a long sloping traverse into Gully #2. Andy followed and was able to catch up when I dug another hand shear pit. The results were similar to what we found in Central Gully and we continued upwards with Andy taking over trail breaking.
Another snack break with comfortable temperatures and amazing views and then we skied another exceptional untouched line. This time Andy stopped and got some photos of me, some of which made me look like I knew how to ski. Amazing!
The snow in Gully #2 was less consistent and I kept getting my tails or tips caught up the softer snow near the edges. I think a stiffer boot and a little more ski would have helped in a big way.
Another Lap
It wasn't yet time to pack it in so we went back for another lap in Central Gully. My legs were starting to feel the vertical now but thankfully the booter was well set and we made good time to the top. I stopped a few times on the way down to give my legs a rest and then changed out layer while I watched Andy ski down again.
Andy made hard fast carves down the slope. A couple was watching as they prepared to climb up and I could hear their commentary.
"You don't see that everyday."
"He's a really good skier."
And so on.
But they stopped talking as Andy made an exceptionally hard turn near them and absolutely blasted them with snow. It was one of the highlights of the day.
Gulf of Slides Trail
Andy skied ahead of me, he was gunning for the Strava KOM for the descent. My legs were tired at this point and I was just trying to enjoy the run back to the car and not crash. I passed a big group skinning up late in the day and then barely avoided running into a couple of solo skinners in one of the narrower steep sections just after the Graham Trail junction.
The Gulf of Slides Trail skied beautifully with just the right amount of obstacles and bumps thrown in to keep it interesting.
Andy made it back to the car about 6 minutes faster than me. We found out later that he had indeed gotten the KOM.
It was great day out in the mountains.
A quick note on naming:
I've found conflicting names for the gullies in Gulf of Slides. I've seen the primary gully alternatively called Central Gully, Main Gully and Gully #1. I chose to use Central Gully for the primary gully and Gully #2 for the gully that is to the looker's right of Central Gully.
Be sure to subscribe to our newsletter below!