Huntington Ravine and North Gully
My friend Chris made the long drive up to North Conway from Philadelphia on Friday night. When he rolled into town at midnight he found that his motel reservation was messed up and he had to search for another place to stay. Then he met me 6 hours later in Pinkham notch. He really wanted to go climbing.
I, on the other hand, really wanted to go skiing. With calm winds the past couple days, plenty of snow coverage and abundant sunshine in the forecast, it was looking like it would be an exceptional ski day. Luckily, I was able to convince Chris to lug his splitboard up the mountain and we made our way into Huntington Ravine. The fire road leading into the ravine had some pretty intense boot tracks in it. Someone had done some suffering to get up there. Skis made the approach pretty mellow.
We eventually met the guys that had been doing the post holing. They had bailed a short way before they got to the fan because of the rough snow conditions. Had they kept going they would have found some pretty firm wind effected snow and they would have been able to make good progress up to Pinnacle or Odell gullies. Sucks to be them.
The clouds that covered Pinkham notch had completely dissipated by the time Chris and I were halfway up the fire road. We could look back and see the fog filling Pinkham Notch. After a quick break we parted ways from the skiers who were heading up Central Gully and traversed across firm snow towards the base of Yale Gully, our original objective. But as we got closer to Harvard Bulge, a mass of ice that marks the beginning of the gully, we were peppered by small ice chunks rolling down the slope. The sun was quickly destroying the ice and and we could hear water rushing below the snow pack. After moving out of the danger zone we decided to climb North Gully instead.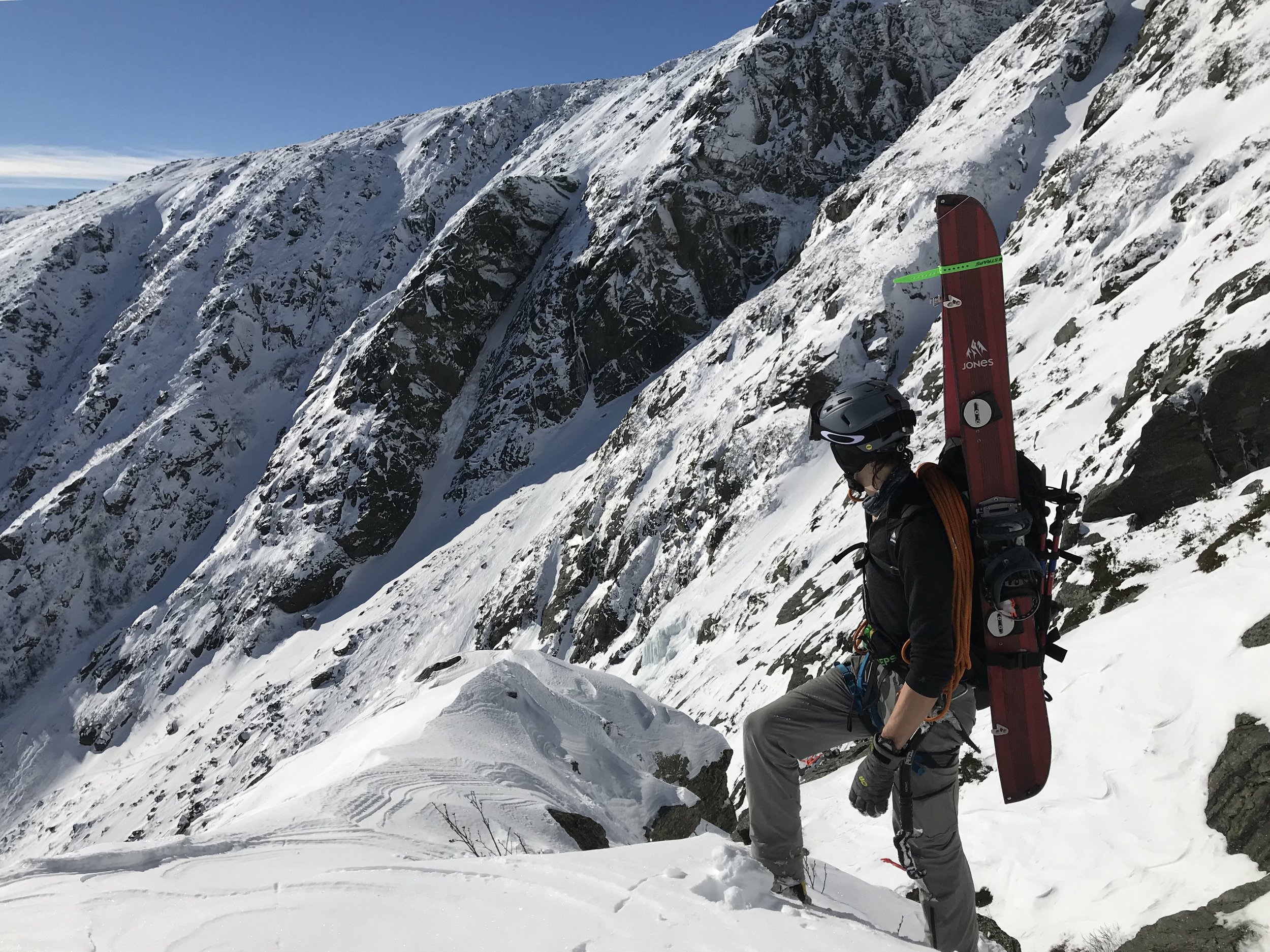 North Gully is defined by a large, overhanging rock buttress on its east side. In the unusually hot sun the shade the buttress provided looked appealing and we hoped that it would provide some relief from falling snow and ice. There was one short ice bulge at the beginning of the route. It looked easy enough from the bottom so Chris and I decided to solo it. It turned out to be trickier than it looked but we were both able to move without any major catastrophes. From here on up the gully turned into a deep snow slog. We post holed for what seemed like an eternity before we were able to get on top of the eastern rock buttress. It made for some good pictures but then we returned to post holing on top of the buttress too.
Eastern Snowfields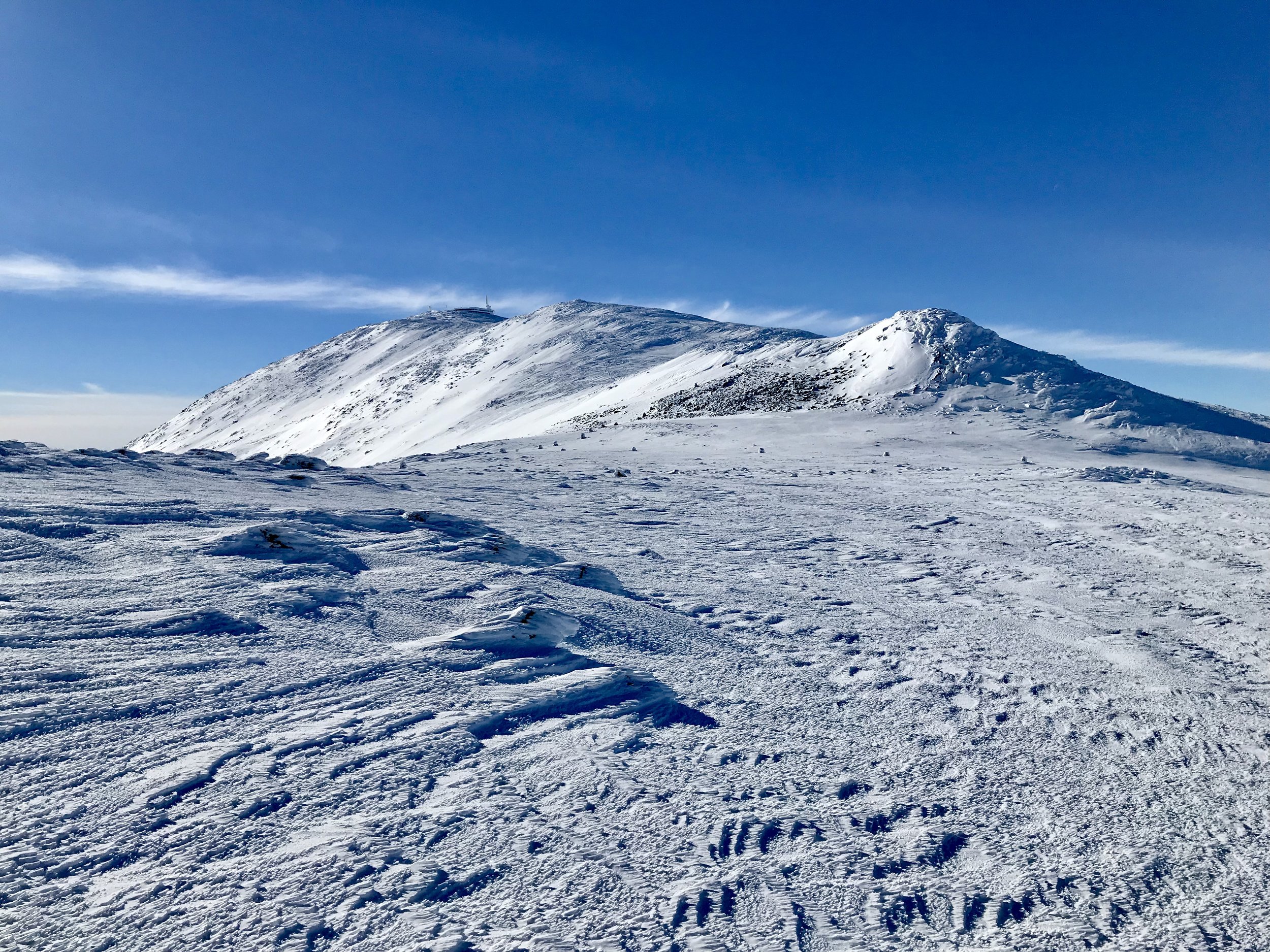 Eventually the gully turned into a mellow snowfield near the top and we were able to return to skinning. We slid up the ridge and eventually made our way to the Eastern Snowfields near the summit of Mount Washington. It felt good to rip skins and ski crampons and start making turns.
The snow was great and I felt confident in my Alien RS boots and Transalp 80s. Chris was experimenting with using his mountaineering boots with his splitboard. He was getting worked but was able to keep making nice turns down the slopes. We made the long traverse over to right gully and got ready to descend.
Tuckerman Ravine and Right Gully
We had to shed a few layers because the temperature had risen so much since we left the summit area. I was nervous making my first steep turns of the season in my still new-to-me Aliens but the snow was softened by the sun and the skiing was great. Chris followed on his board. This was his first day out snowboarding this year and he was shredding Tucks in mountaineering boots with a heavy pack. I was super impressed.
The bottom of the gully had passed into the shade and had developed a nasty sun crust. It made things tricky for me. I had a hard time getting the tails of my skis to release from the snow. It was ugly but I made it down to the base. Little headwall was still a river and not skiable so we ended up skiing down the Tuckerman Ravine Trail. This was an adventure for sure but the snow coverage was actually pretty decent and made it survivable.
The Sherburne
The Sherburne was awesome. Great soft snow, only two open water bars. It was a great way to end the day. I'm happy with the way my ski gear performed. I felt confident in my Aliens and I'm looking forward to spending more time in them. Hopefully, they'll be a good race boot for this upcoming season.